We are proud to have another quilt published!.
Our Feathered Star
is featured in the latest Quilt Trends magazine. Cathy took a very traditional pattern and used contemporary batiks by Island Batiks. This shot does not show the star that well. We will be loading more pictures.
Babies bring out the best in everyone! Sarah has just completed this adorable Bopple Ball for her niece. You have to love the bright colors on it.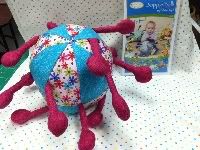 If you have created a toy for your kids, post the pictures here - we'd love to see them.